Archeda at Cersaie 2017, an exclusive interview with Maurizio Poletto
Furniture is an emotion; furniture makes the home. It is from this profound conviction that since its foundation in 1996 Archeda has learned to develop, up to a level of excellence, the production of bathroom furniture, accessories and other accessories, focusing on design, quality of materials and craftsmanship, and on the response to the ergonomic and functional needs. This challenge was also met thanks to the awareness of the value that a Made in Italy object can give, which ensures a beautiful product that is reliable throughout time and very well appreciated in foreign markets. During Cersaie 2017, we met up with Maurizio Poletto, who chatted with us about the present and future of the brand, with an eye on the latest developments.
What new developments did you bring to Cersaie?
"I would say that everything is new. We did not bring anything that we already had because being present at a trade show means being able to excite, renew, innovate and arouse emotions. You can only do this with new products in tune with the market and dare to create something that the market still does not know. We presented a model that, unlike what the market wants, is something more classic, contemporary and industrial. It depends on how you use it. It is a wood door that has been slightly worked in a box that can be made of MDF with various finishes. Then we moved on to the restoration of fir scaffolding wood, which present aspects of ecology and reuse of materials that is greatly appreciated on the market. With this, we created counters and cabinets that have iron accessories. This project resonates the tones of the past, both as tones and as values, which are the same on which we base our company. Then, we made new developments in bathroom furniture design, which is very trendy: cementitious resin with wood that imitates the coating of bathtubs. Synergies between companies and materials are needed. Today, furniture is used throughout the home. It is not simply furniture for the bathroom or the living room. It can be used throughout the entire house."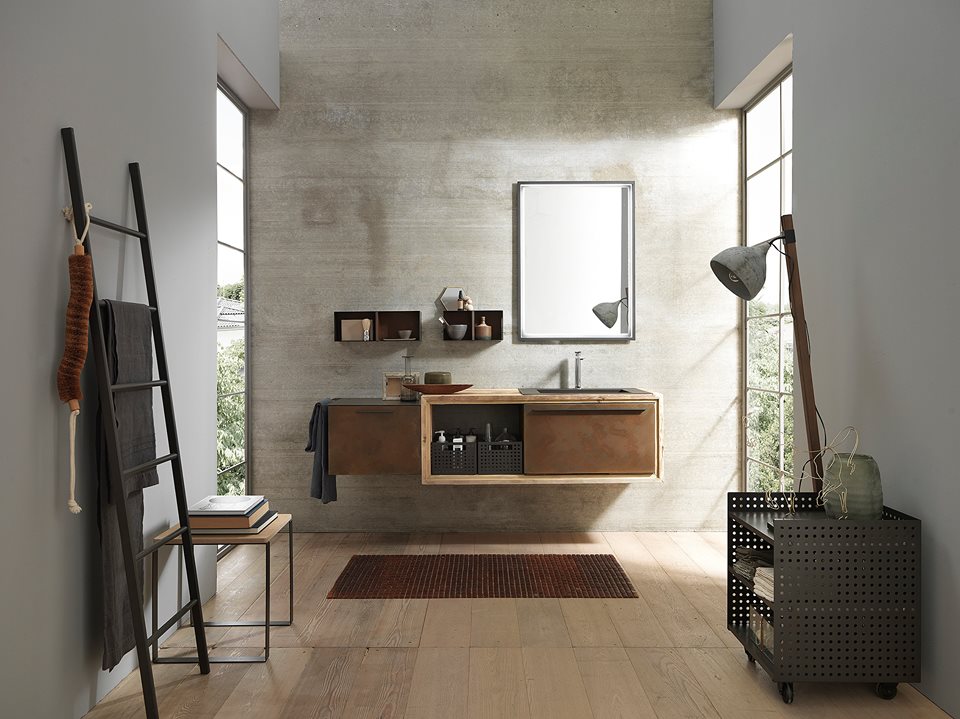 What markets do you target?
"We target the entire world. Our aim is all markets that love and appreciate Made in Italy. We want to expand our brand. Made in Italy is a concept of beautiful furniture that is well cared for without any problems and with a correct post-sales service. We, as Italians, need to be known and appreciated for this. We must develop Made in Italy not only in the product but also in the professionalism of the company."