Materials Village at Maison & Objet
Material ConneXion Italia, the leading international network for research and consultation on innovative and sustainable materials, will present at Maison & Objet, the international trade fair dedicated to design, interior decoration and architecture, the first Paris edition of Materials Village, a hub of events and initiatives dedicated to promoting materials, new technologies and sustainability.
After becoming a point of reference for the Milano Design Week and the London Design Festival, Materials Village will arrive in Paris at Maison & Objet to present a project addressed to Parisian architects, focusing on the interior world. The hub of Material ConneXion Italia will be hosted in the pavilion dedicated to inspiration and design solutions for architects and interior designers. In this context, therefore, the materials will take centre stage among the visitors looking for answers tailored to their design requirements.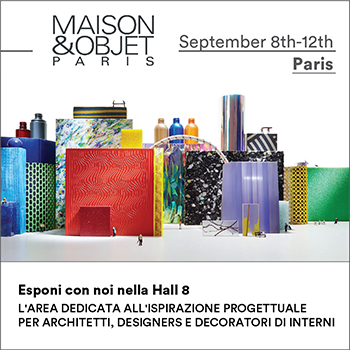 The installation "L'Atelier Italien", curated by the Studio Marco Piva, will be presented during this Parisian edition. It will provide an Italian interpretation of the materials offered by the exhibitors, enhancing their technical, decorative and functional features.
The architect Marco Piva commented:
"For me, research on architectural composition and interior design is an almost obsessive activity, whether it concerns natural – marble, stone – or artificial materials – glass, ceramic, metal – up to the new composite and synthesis materials. In 'L'Atelier Italien,' the strength of the project stems from the creative dialogue between my Studio and the companies: as in a workshop, the synergy between an architect and a company, together with their creativity and obsession for the details, give birth to unique possibilities. The idea is 100% Italian, the result is ready to face the World."
Finally, do not forget to visit the Abet Laminati space, which will be present at Materials Village with a stand designed by Paola Navone and dedicated to Polaris, having a surface that is warm and soft to the touch, anti-fingerprint, as well as scratch and heat resistant.
The success of the Materials Village format lies in finding a correct relationship between the space dedicated to innovation/research and the space available for material manufacturers to present their products: a village structured into "houses," each dedicated to a project related to the world of materials and production processes. Additionally, Material ConneXion Italia will be present with its own Materials Library, including a selection of the most innovative materials.