Orchid, pink, lilac terracotta and green, chocolate brown and camel: the colors of autumn paint the Bross collections, including chairs and comfortable dining armchairs, lounges and sofas, stools and benches that allow for extensive customization possibilities. Here are the products to focus on in the coming months.
SIT – Designed by Marco Zito in 2021, it is a range of lounge armchairs, chaise longue and poufs with soft and enveloping lines, shaped for maximum ergonomics. SIT is an archetype that is here declined in a shell with curved profiles, where the backrest element is developed on two sides only, with padding modelled in different thicknesses to accommodate the person. The result is the possibility to arrange the chair freely, thanks also to the free side that allows an easy combination with a small table or a side table, which in the lounge version can be directly integrated with the structure, available in black lacquered or brushed bronze. In the latter configuration, it is ideal for use in office or hospitality environments. SIT is available with fabric or leather upholstery, enhanced by the visible stitching that contributes to its shape.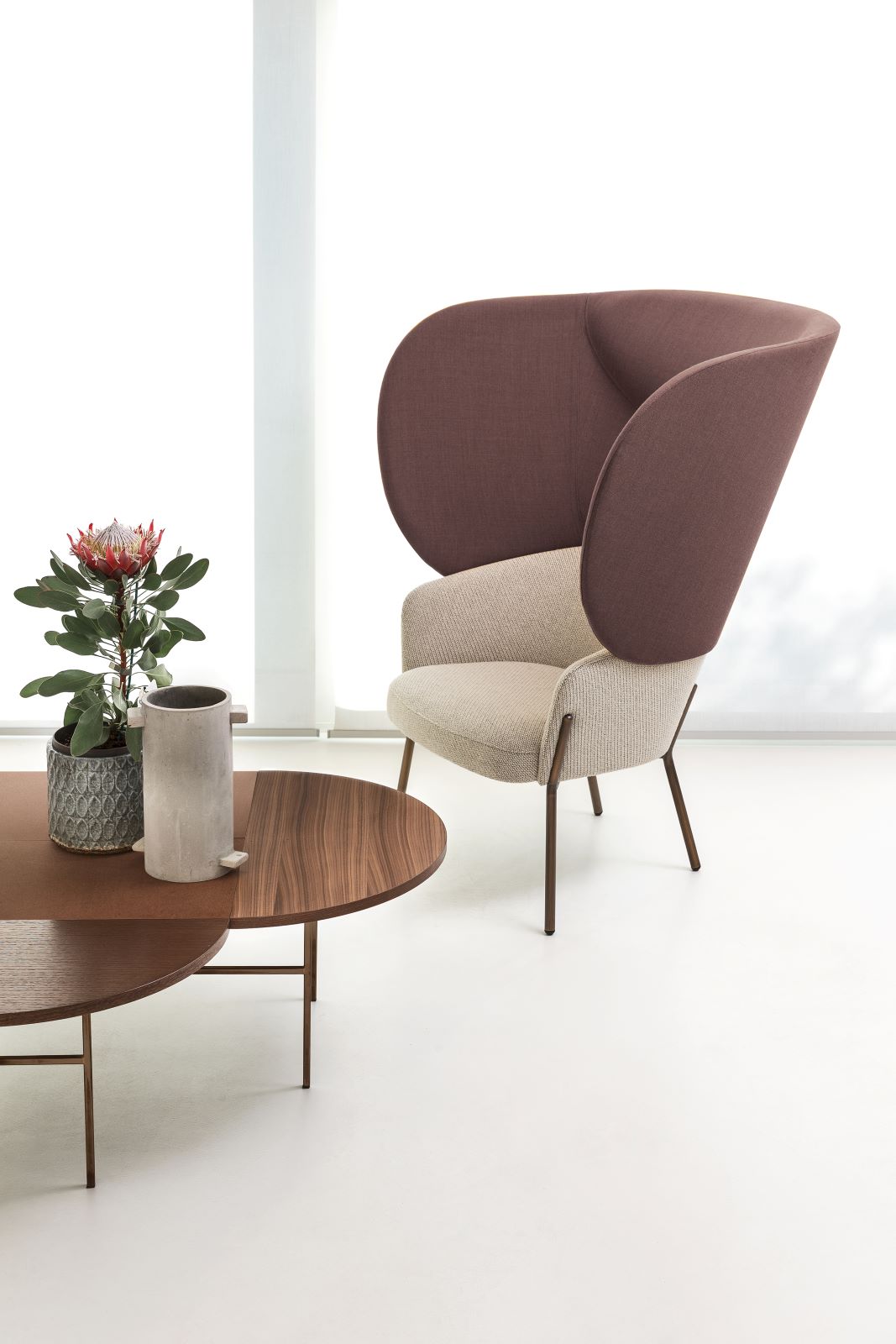 WAM – The collection designed by Marco Zito is an elaborate project that includes an armchair, a bergère seat, a sofa, benches, poufs and coffee tables that can be placed in private or public spaces. The starting point around which the product family is developed is the combination of two elements: the metal base, in black or brushed bronze finish, and the large volumes of the upholstered parts. The composition of the body of the armchair, bergère and sofa – in which the headrest is connoted – allows to experiment with colour and texture combinations in the choice of upholstery, for a personalized design.
Nora – The collection signed by Michael Schmidt is composed of a small armchair, a stool and a lounge chair in which the solid wood structure becomes the identity sign of his design. The back legs, in natural, stained or matt lacquered ash, extend to define the lower profile of the armrest, with a double decorative and functional value. The shell, upholstered and covered in leather or fabric, is embellished with tone-on-tone or contrasting stitching.
Bross upholstery is therefore the perfect solution to welcome the new season and enjoy the end of the year with style.