An authentic temple of luxury: this is Palazzo Barovier&Toso, located near the company's historic headquarters on the banks of Rio dei Vetrai in Murano (Venice) and built to become a unique site in which to enjoy the majestic beauty of the Italian company's creations.
The building, whose interiors have been designed by Calvi Brambilla studio, consists of over 900 square metres of space and offers an itinerary through the history of a brand that has developed colours, techniques, forms and styles, reinventing itself each time with the exclusive refinement that has made it famous all over the world.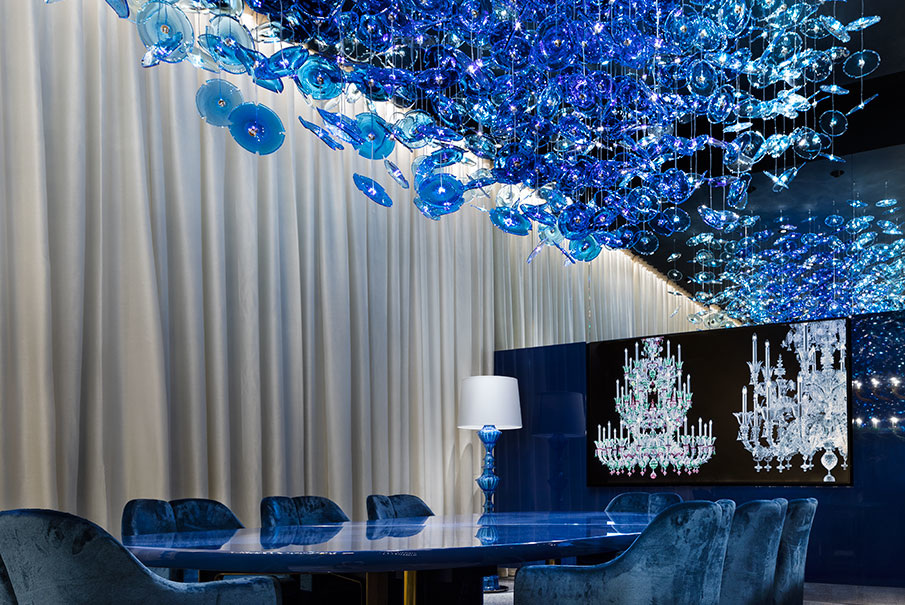 The architects drove a total renovation of its internal spaces and designed an essential itinerary on three levels to narrate the unique quality of the brand, through an exclusive installation in which every detail has been honed as a tribute to the timeless luxury of the collections on display: not just a showroom, but a versatile space in which the production of Barovier&Toso enhances heterogeneous but always refined spaces, creating evocative and emotional atmospheres.
The project is based on a contemporary reinterpretation of the typical architectural features of historic noble palaces: from the panelling to the floors in Venetian terrazzo, to the layout of the rooms, all the way to the colour that sets each room apart, generating a spectrum of chromatic atmospheres: this choice becomes the fil rouge of the whole building, offering a unique visual experience, in tune with the works of art by Jason Martin, Brigitte Kowanz and Astrid Krogh, included as a tribute to the Venice Biennale.
The ground floor, for the reception area and shopping, is done in tones of black, wrapped in soft lighting, with a variegated selection of suspension and table lamps; a golden staircase connects the three levels of the palazzo and overlooks a two-story space that contains Taif, the immense chandelier designed in 1980 for one of the residences of the king of Saudi Arabia.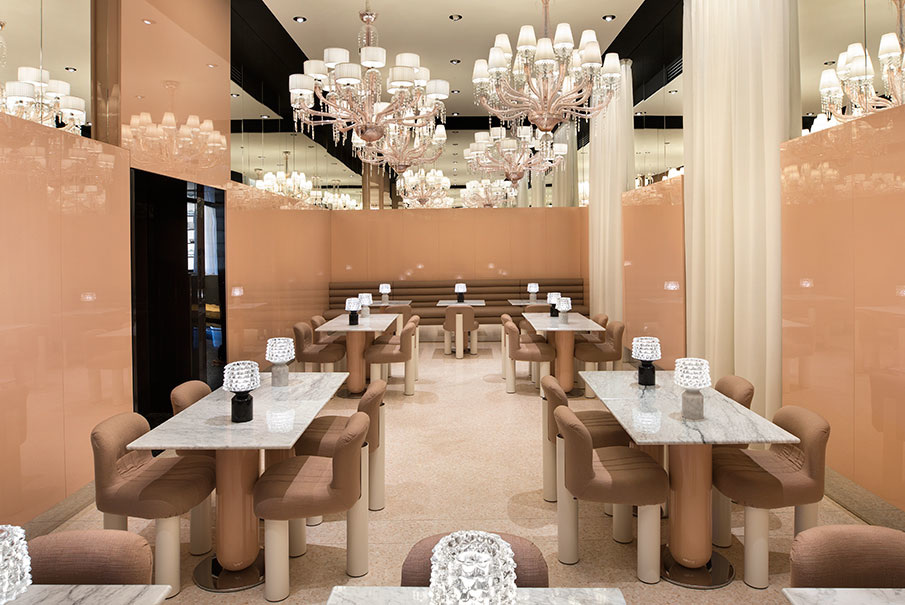 On the first floor, in a series of monochrome spaces – white, gold, blue, black and red – Barovier&Toso tells its story through the most prestigious collections; the second and uppermost level is for an airy and essential hall with ceiling trusses that contains the larger chandeliers in classic, modern and contemporary style: the sole protagonist is light and the charm it unleashes in a thousand reflections on Murano glass.
The itinerary concludes with a bar area (featuring colourful exhibits of blown glass and parts taken from various chandeliers), as well as a large cafe in tones of pink, conceived to illustrate the brand's great potential on the contract market, which has enabled it to become an exclusive partner in the making of luxury hotels, boutiques, government facilities and public spaces all over the world.
In conclusion, the palace is an ode to Italian creativity, fully interpreted by Barovier&Toso collections.