Being a reference term in the field of design and construction of spaces for food, RPM Proget recently completed Mater, a very special pizzeria opened in the Colonna district in Rome, featuring four iron windows overlooking via della Maddalena with its beautiful church in a combined style Baroque-Rococo, located 50 meters from the Pantheon, in the ancient heart of the city.
Mater pizzeria (the choice of the name is a remind to the historical context but it also refers to the concept of mother yeast) is extended over two floors, each of about 115 square meters; it has a total of 25 seats inside and 30 seats in the outdoor area. It's an all-day-food venue, operating from breakfast to dinner and after dinner, designed by RPM to bring together three different souls: Pizza, Market and Cucina (Kitchen).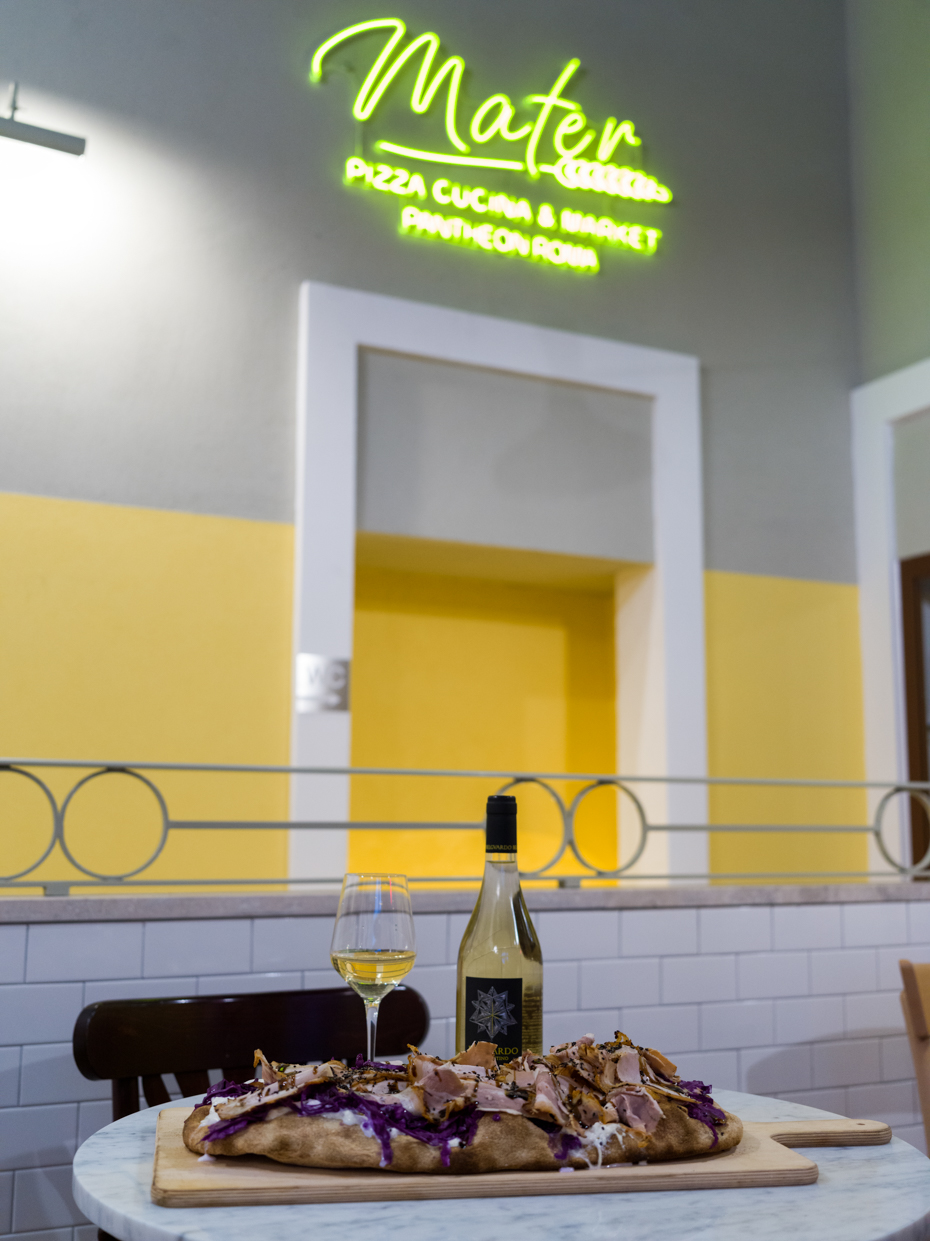 In the first entrance hall, an imposing counter displays a triumph of sliced pizza, fried foods, vegetables, pasta dishes and refrigerated food, all visible from the window, which is set up like a grocery store, with hanging cured meats, various types of products and pizza, in a tasty gastronomic dialogue with the windows of the historic Feroce butcher's shop, which is opposite across the street.
The Market is showcased on a large wall next to the Cassa, where only products of Roman and Italian gastronomy are to be found. For this heavily used area, a CESI-produced cement floor with octagonal dowels was chosen, which helps give a touch of "vintage" decoration.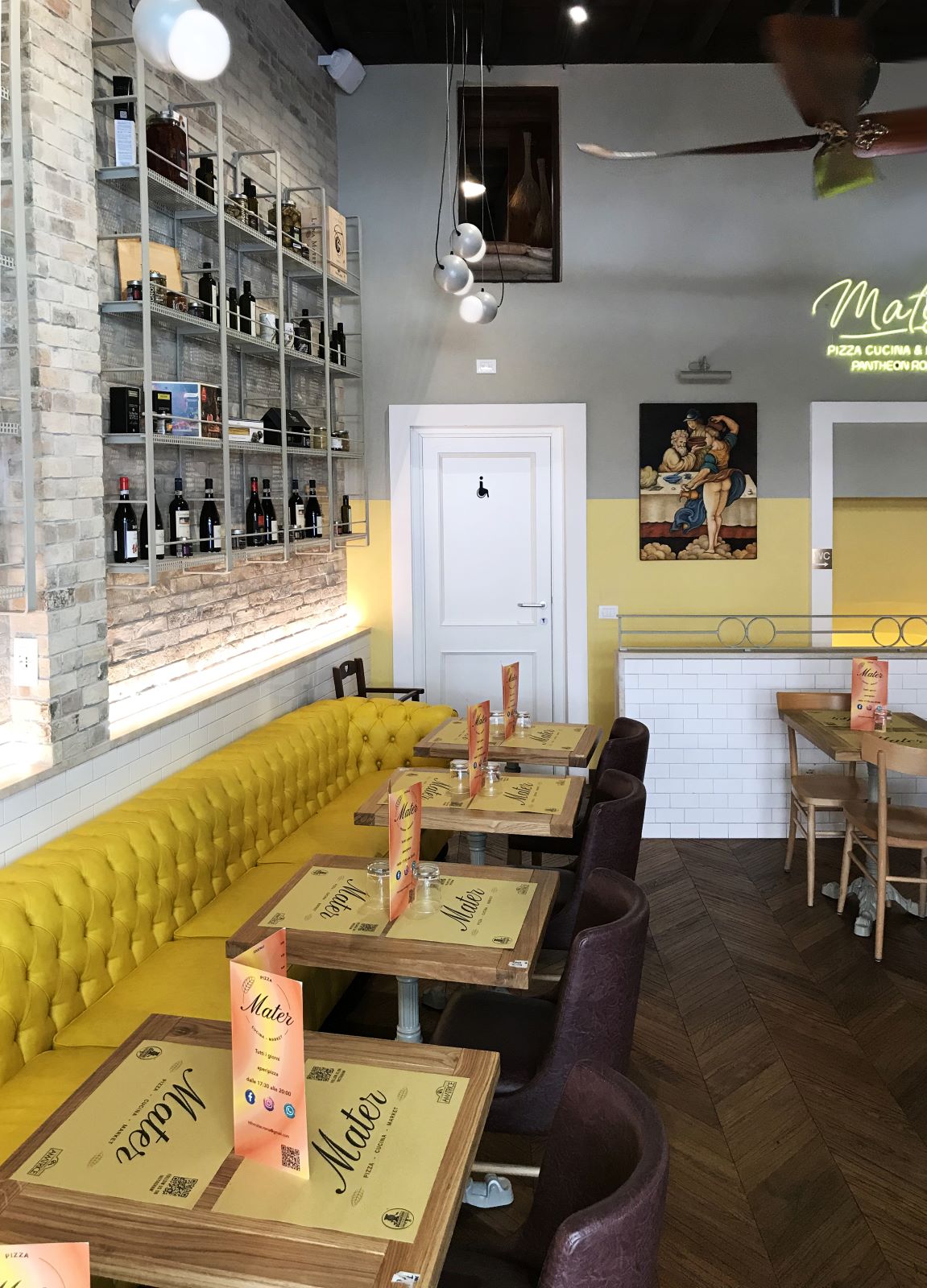 Next to it, a room of 30 square meters with 25 seats with parquet flooring in treated natural oak and mounted in a Portuguese herringbone pattern, welcomes customers with tables and upholstered armchairs, a bench and a 5-meter Chester sofa. The idea is to offer a comfortable space where people can comfortably seat with their food tray and stay for a while, without any rush. In the room, a sunny, energetic, bright yellow is predominant and the decoration is entrusted to two large paintings depicting the Goddess of food and Crows on a Wheat Field by Vincent van Gogh. On the wall, there is a brick covering 7, 5 x 15 with a large structure used as a winery. The tiles lining the bathrooms and the two large LED signs in the window are also yellow.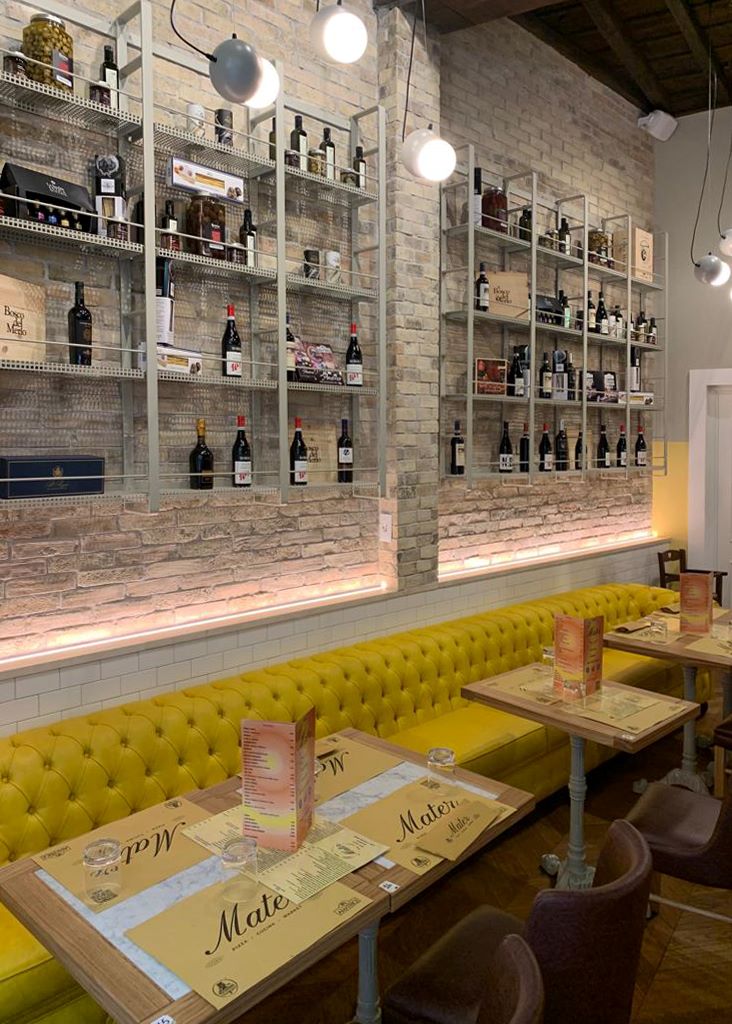 The Kitchen is an open space, like a large raised control room, featuring state-of-the-art equipment – including two ovens by Castelli and Italforni – with a team of 10 people in charge of food preparation.
The service functions are hosted in the lower floor, together with the washing area, bathrooms with showers, the staff changing room and the warehouse.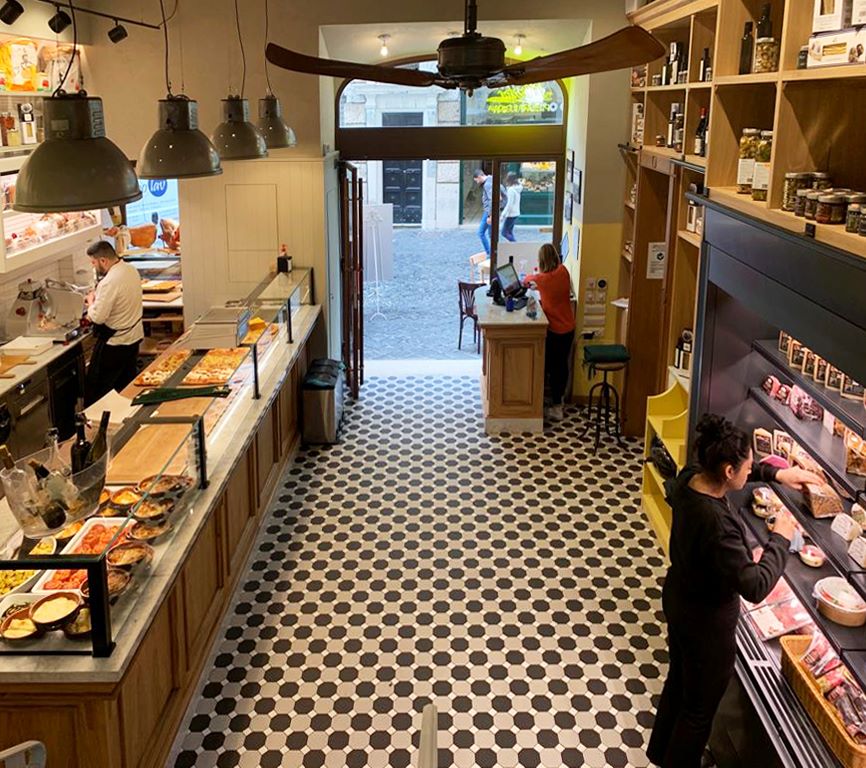 "Those who love food are able to realize beautiful places dedicated to food, but above all they must be places designed to work well" says RPM architect Michelangelo Pepè, explaining the team's philosophy.