A modular, innovative, multifunctional structure fully integrated into the kitchen: it is built by Monolith, Shelf and Air Wall systems, which are part of Falmec's new Elements collection, conceived to transform the standard concept of aspiration.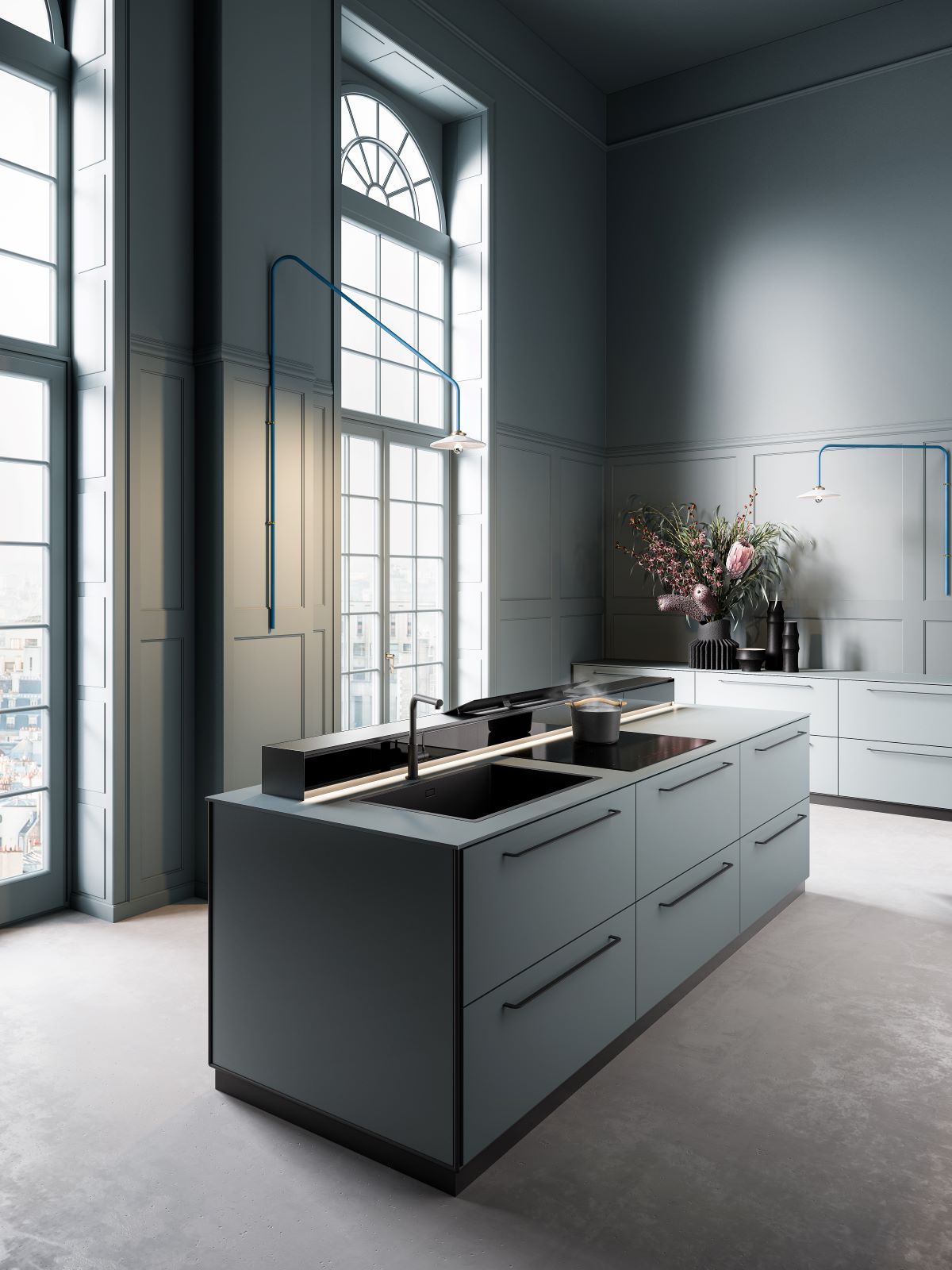 Resting on the worktop, Monolith is an element of the most precious design, conceived in order to cater for a range of needs in the most refined way. The Monolith system includes a 90 cm suction element and 30, 60, and 90-cm-wide accessory storage modules that can be placed on the right or left, allowing you to create a functional, customised set-up. Its black glass front is mounted in a matt black aluminium frame. The result is a handy storage channel equipped with suction function – that can also hold ladles, spices, knives, cutting boards and other tools, as well as electrical outlets – lends style and practicality to the kitchen. The suction module of Monolith opens slightly to access the control of the extraction and lighting functions, as well as allowing the removal of fumes. Monolith features a matte black aluminium frame that houses a polished glass front on its vertical part; the system is also equipped with suffused light for an alluring effect, while diffusing a pleasant beam of light into your kitchen.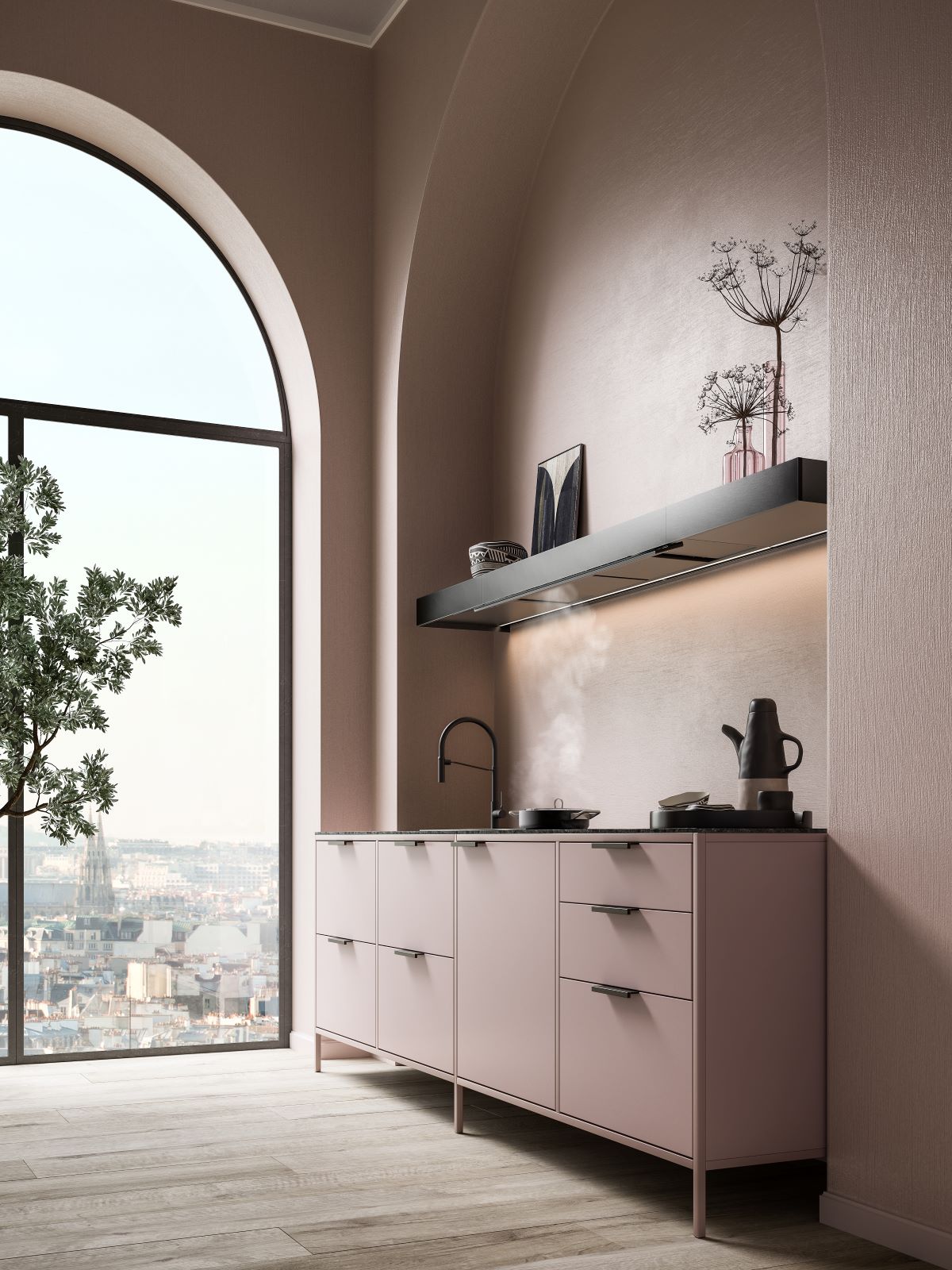 Shelf, on an alternative level, stands as an actual suction shelf.  Thanks to exclusive Multi-Air technology, Shelf incorporates a very thin suction element in a shelf structure of only 10 cm in thickness, equipped with a removable vane to increase smoke suction capacity.  This element with hood function can be enriched with additional modules to create a versatile hanging furniture system on the wall. The 120 cm suction module can be attached to the right or left of other shelves with a width of 60 and 90 cm.  The structure is made of black painted steel with a black satin-finished aluminium profile. Its underside is equipped with an integrated LED strip with a dynamic light that illuminates the worktop for the entire length of the shelf. In addition, Shelf also provides additional accessories such as spice holders and other kitchen equipment that furnish the wall for a highly functional kitchen.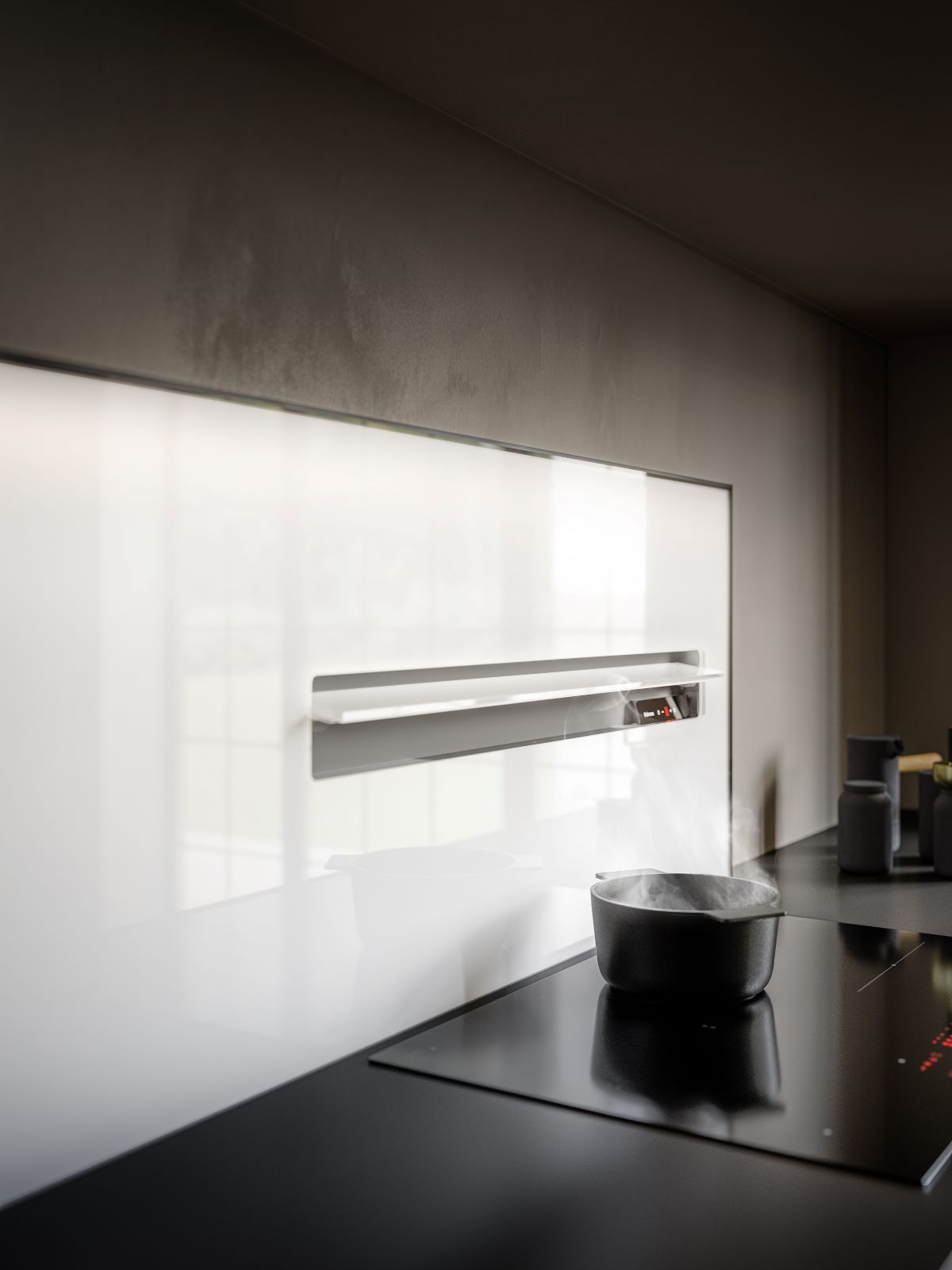 Air Wall integrates extraction technology into a backlit, white tempered glass vertical panel, transforming the back of the kitchen into a multifunctional surface that purifies the air, while at same time creating an evocative ambient light. Air Wall is also equipped with a magnetic system, to enrich this innovative new product with additional accessories that can be positioned freely on its surface. Extraction takes place by means of a flap, which can be opened manually, allowing the passage of air and access to the hood function controls. The project was created through the collaboration between Magneto Lab, a Umbria-based company producing innovative kitchen backsplashes, and Falmec, a world leader in kitchen extraction.  A fine example of partnership and collaboration between seemingly different worlds to produce highly intelligent new integrated solutions. The panel is available in a 150 cm version, with decentralised suction on the right or left, or a 120 cm version with central suction, to meet all installation and usage needs. The motor, located in the base of the kitchen, is designed to be small in size but great in efficiency.
The new Elements by Falmec will be available from early 2023 so as to transform spaces to become even richer in charm and functionality.