A perfect combination of perfomance, design and technology: it is the Circle.Tech collection by Falmec, established in 2016 with the Sophie, Dama, Materia, Vetra, Loop and Soffio models, and enhanced over the years with the new and extraordinary Spazio, Vega and Levante solutions.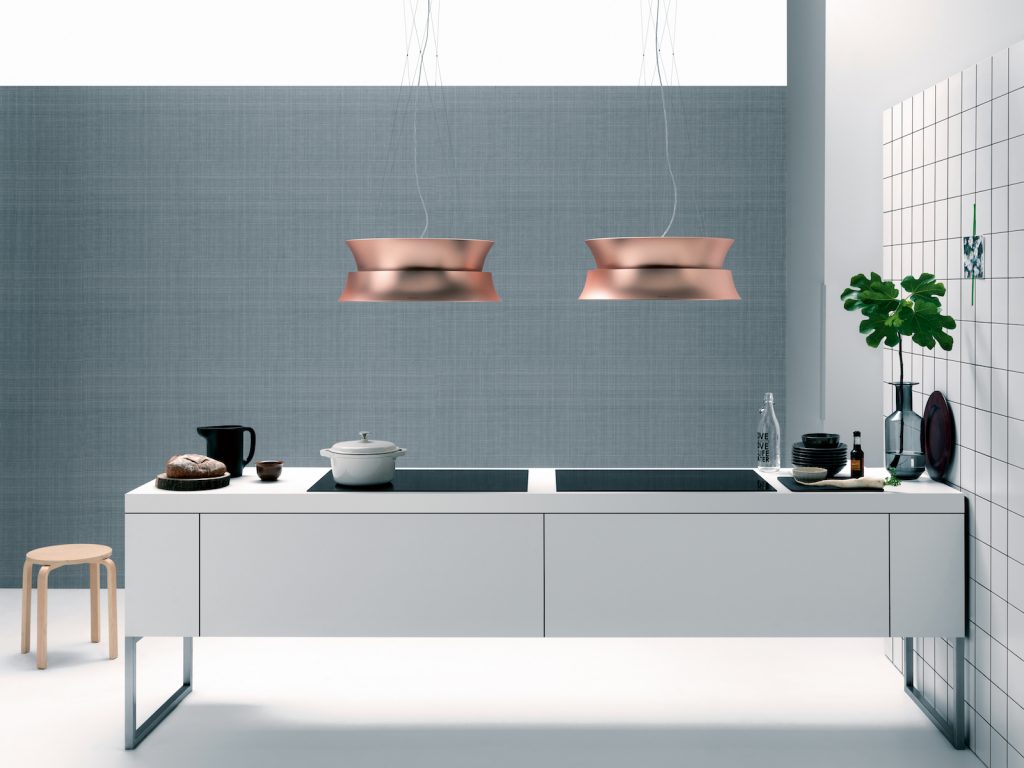 Essential features of the Circle.Tech filter technology are the combination of suction and filtration functions within one single unit and its horizontal development: during the process of aspiration, in fact, the output air passes through a filtering body that envelops the engine in its circumference, spreading evenly and thus reducing the outgoing air turbulence, with a consequential decrease in the noise produced by the hood in operation.
In addition, this collection also presents innovation in terms of design, with solutions to islands, walls and even ceilings, encompassing the triple role of hood, furniture element and lighting body.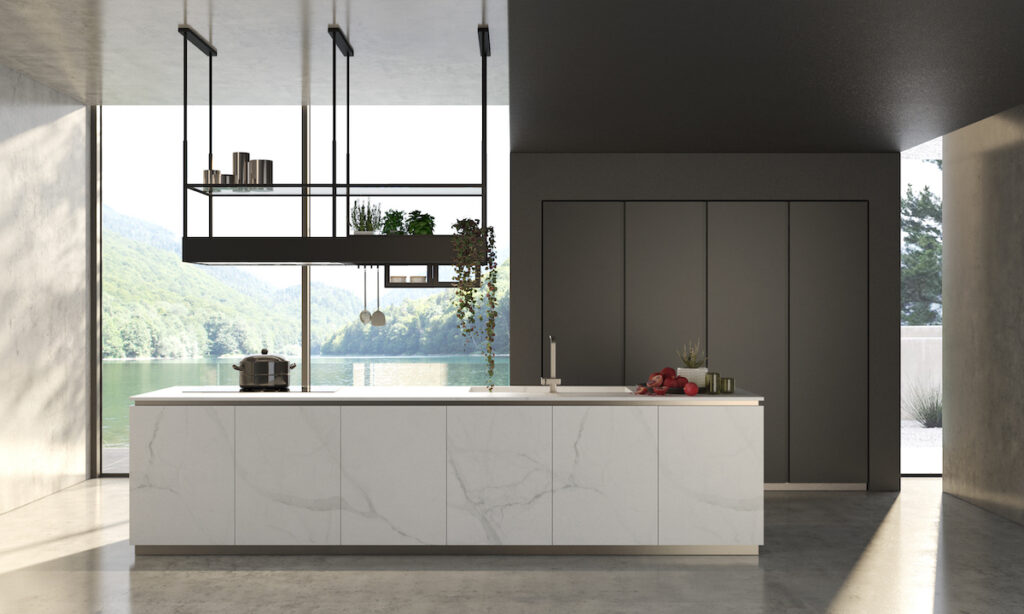 Firstly Spazio: this articulated system is aimed at extending the traditional concept of the cooker hood by offering functionality to 360°, both in the organisation of tableware placed uniformly on elegant glass shelves, and in its practicality, with fully equipped areas for utensils and with electrical outlets and USB ports; Spazio also boasts an area dedicated to the cultivation of aromatic plants so you can have a real home garden in the kitchen.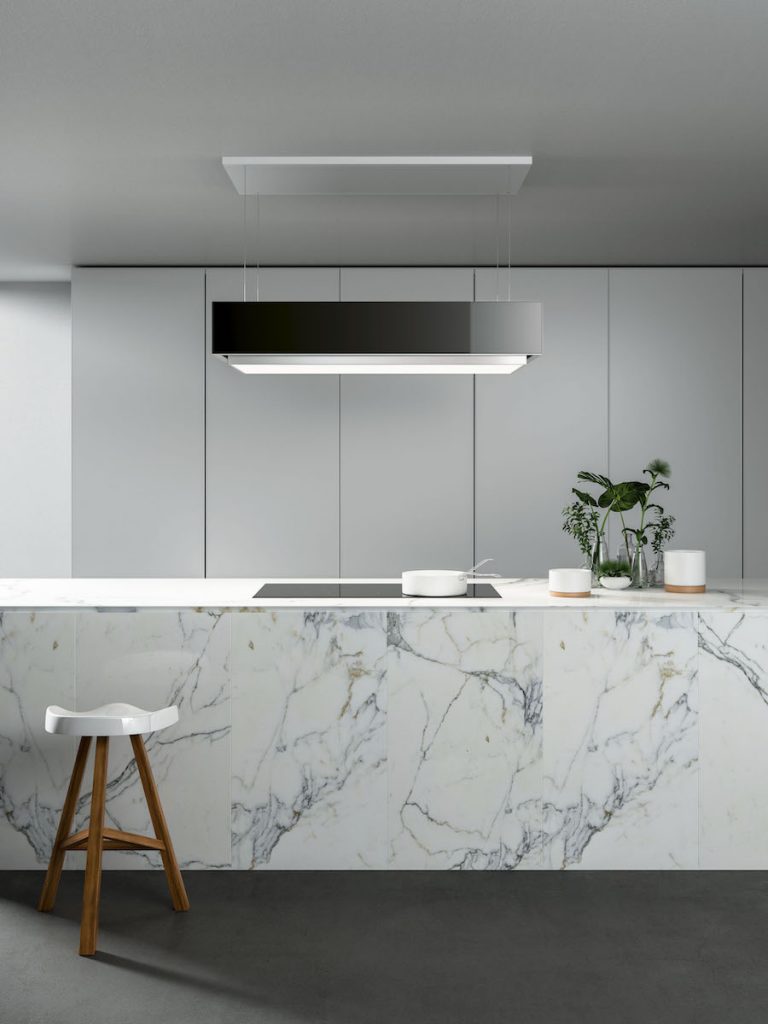 With its great scenic impact, Levante surprises with its motorised Up/Down system, which allows it to be adjusted in height as needed, using a remote control: the light panel positioned in the lower part of the hood ensures excellent lighting for both functional and environmental efficiency; in addition, thanks to Dynamic Light technology it will be possible to vary the shade of light to be able to adapt to any context.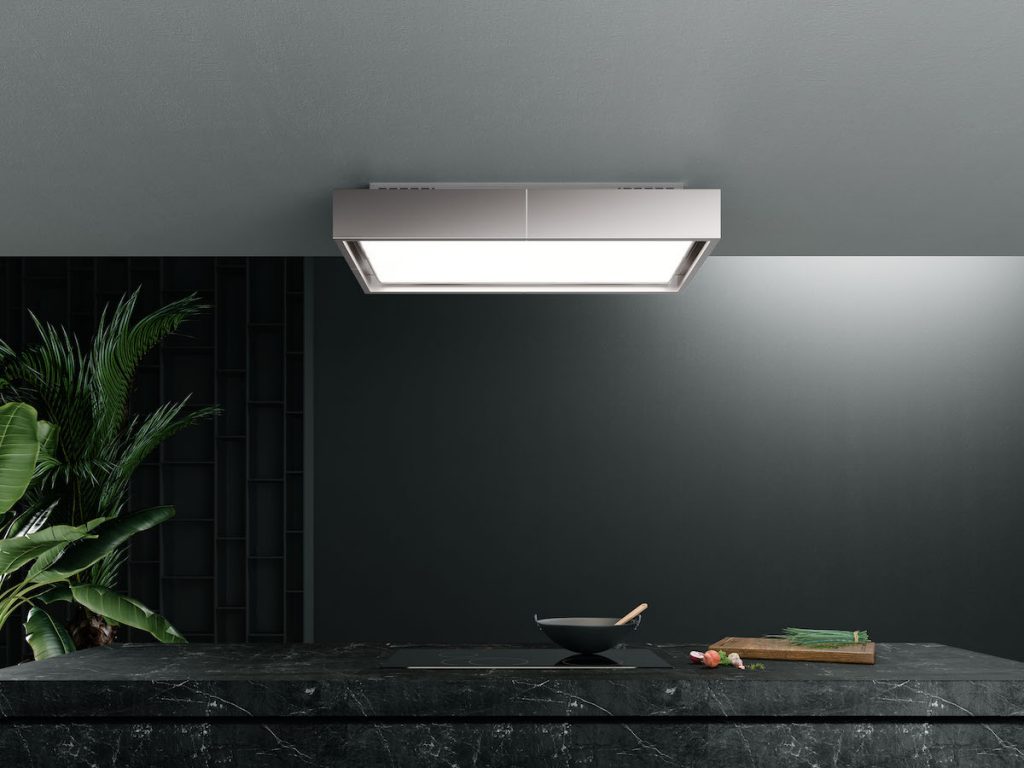 Equipped with the same function and lighting technology, Vega, the only ceiling filter model in the Circle.Tech line, conceals the filtering apparatus within an area defined by symmetrical segments, drawing a vertical graphic for a balanced effect between the components.
Last but not least, all Circle.Tech solutions make use of the exclusive Carbon.Zeo filter that combines the properties of the activated carbon, retaining different types of substances by attracting the molecules and assimilating them inside, and zeolite, a mineral with very high capacity to absorb organic compounds and water vapour: the result is not only doubly effective odour containment compared to classic filtering solutions, but also lasting up to 5 years duration.
Falmec's 2020 has just begun.