Milano Aperta is the title of a trilogy of exhibits dedicated to the architecture of Milan from the years right after the war to the economic boom. The second edition, organised by Scandurra Studio with URBANFILE, will be inaugurated on the 20th of February in Paleocapa 7, a building created at the end of the 1940s by the architect Pietro Lingeri.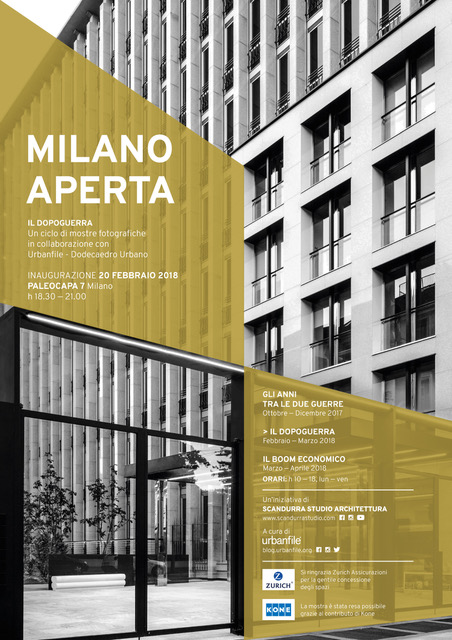 The choice is not accidental. It coincides with the inauguration of the intervention project on the existing building by Scandurra Studio Architettura, which wanted to give new light to the structure, making it an open space on the city: the project, as well as intervening on the external façade, gives life to the internal garden and introduces a "metaphysical square" designed by the architect to accommodate passers-by on the public path that runs along the avenue of the Triennale.
This desire for openness inspired the theme of the exhibition organized by Alessandro Scandurra and developed through the voice of URBANFILE. Some photographs were selected to talk about the transformation of the well-known and less well-known buildings of Milan of great architectural value, combining historical and current images to explain the life path of the buildings, from the building to the use and the changes of the physical, urban and historical context.
These are urban and architectural interventions that testify to the extraordinary post-war reconstruction work, characterized by a renewed, populist spirit, centred on the social effort of rebirth, which renounces the magniloquent forms of the regime.
In this context, there are different generations of designers such as Piero Bottoni, Luigi Moretti, Vico Magistretti, Armin Mieli, Pietro Lingeri and Gigi Ghò, displayed in the exhibit, with a focus on tall and tower buildings, which mark the skyline and urban fabric of Milan during this time.
One element, in particular, becomes the protagonist: the elevator. This vertical means of transport of the metropolis, a structural part of the building, a work tool but also a meeting place, and a technology currently celebrates 160 years. The elevator industry was developed between 1950 and 1960 in Italy and is one of the most successful examples of Italian entrepreneurship.
So, together with Milano Aperta, Paleocapa 7 opens its doors to a retrospective on the means of vertical transport par excellence with a story, edited by URBANFILE with the support of KONE. The story is a real journey through space, time and, above all, in the citizens' view of their city, which changes every day while staying the same.