Natuzzi Italia is ready to come back to the Milan Design Week with the amazing Bao sofa designed by the BIG – Bjarke Ingels Group architectural firm.
Bao is part of 'The Circle of Harmony', a stylistic exploration project launched in 2020 with the aim of creating a physical and virtual community in which artists, architects and designers can plan and conceive Natuzzi Italia's stylistic evolution, using the brand history and heritage as milestones along this path.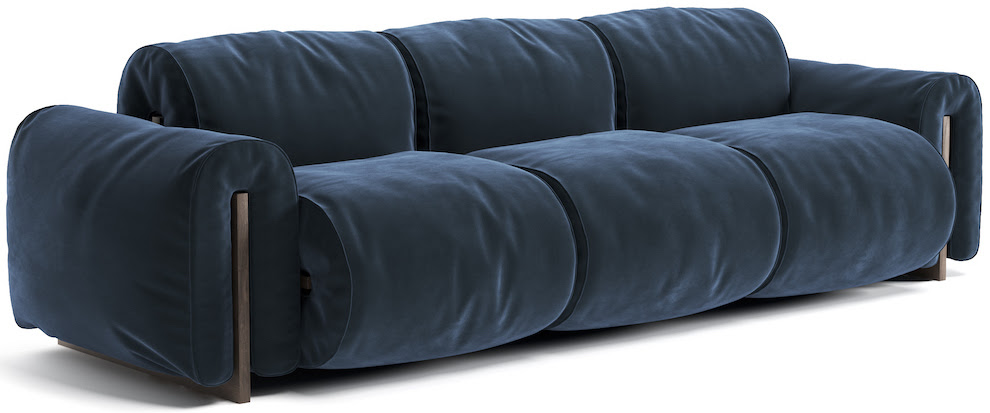 In this fourth chapter, the designers dealt with the issue of comfort, which has always been one of the main elements of Natuzzi's style.
The Bao sofa is thus inspired by the first models of the brand, famous all around the world for their smooth and cosy style. The result is extraordinary, as the name itself suggests: 'Bao' in Chinese means 'precious treasure' and it embodies the idea of what is beautiful in the world and in life.
'We have been asked to design a family of sofas for Natuzzi that could interpret comfort through few and simple design expedients,' affirms Jakob Lange, BIG – Bjarke Ingels Group Partner. 'We tackled this task by putting together opposing materials, by enveloping a soft cushion around a wooden structure, and by creating a solid composition with smooth edges and deep seats to meet the needs for versatility and smoothness of contemporary living.'

The cushions of the seat and back rest delicately on the internal structure of the sofa, creating informal and comfortable seats; another cushion rests on the side structure and becomes a soft arm that enlarges the surface to relax. The nice 'folds' on the upholstery are what makes the project stand out: they highlight the smoothness of the design and increase that sense of visual comfort that the entire collection wishes to communicate.
Bao is a modular system made of an armchair module, two- or three-seater versions, and different components – even angular – to form a true space dedicated to relaxation in the living area.