Over the last few years, thanks to the widespread use of LEDs, the domestic space has witnessed an increasing popularity of so-called "architectural" lamps, i.e. those that require setup right at the building stage.
The possibility of modifying and customising light is becoming more and more important and sought after, not only in public spaces but also in the everyday life of homes, also in terms of energy saving.
In the lighting world, decorative and technical are therefore no longer clear-cut definitions or referable to a single, well-defined field of use of a lamp (office, hotel, restaurant, showroom, home). And it is precisely in this boundary space that Rotaliana's new lamps stand out.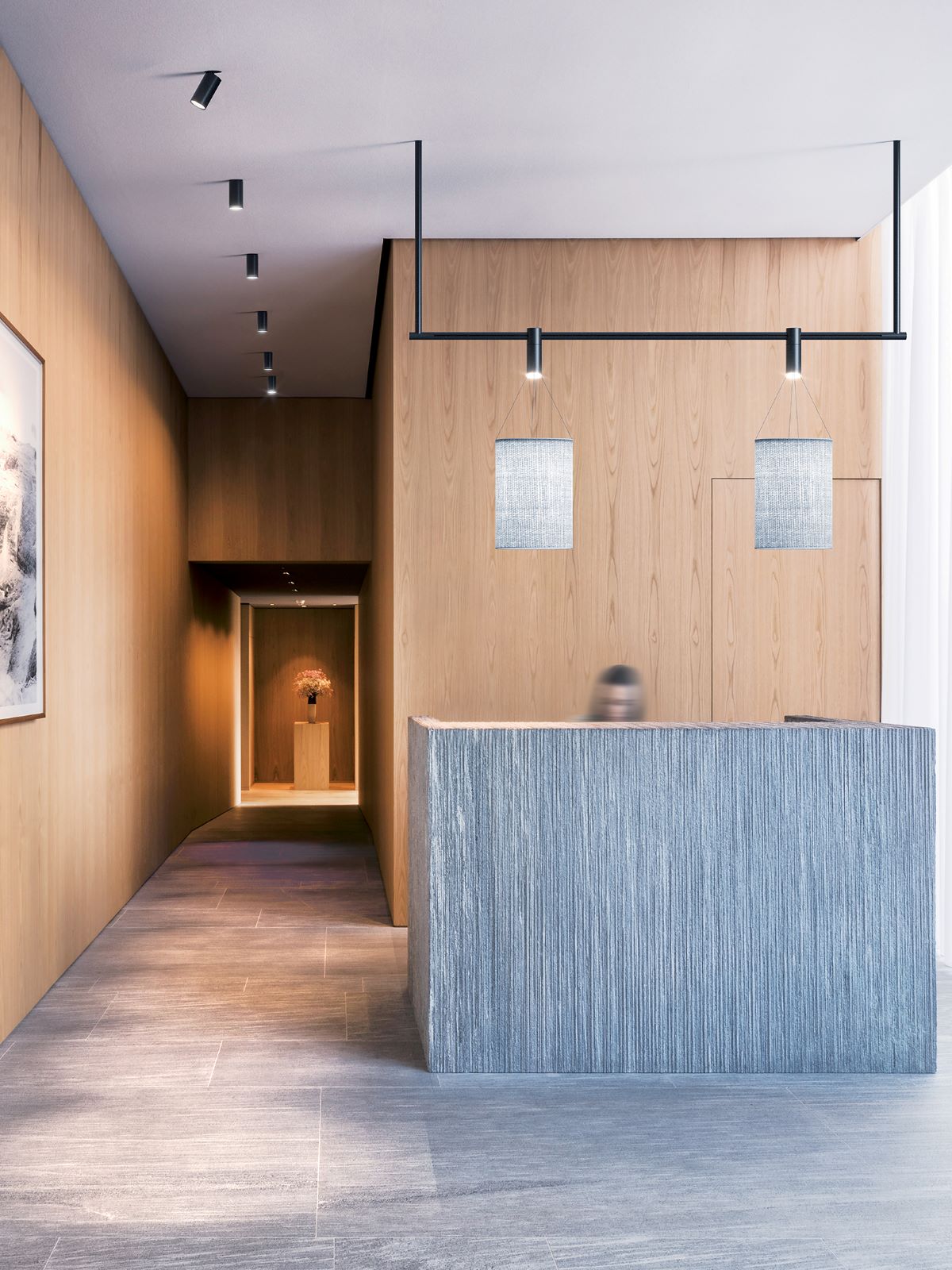 SOUVLAKI (Design by Giovanni Lauda)
The name is that of the skewer of grilled meat, fish or vegetables, a popular Greek street food. As if to make a skewer, the luminaires are threaded into the track, with the optics either pointing downwards or upwards, providing direct or indirect light. The rigorous geometry of Souvlaki's vertical bars and rods is flavoured, just as sauces and spices do in skewers, by a multifaceted and colourful family of accessories: blown glass, flying discs (reflectors) and kites of light, giving a soft and subtle light.
Souvlaki is a low-voltage track system that is simple and intuitive to configure and use in public and domestic spaces. The spots – either adjustable, non-adjustable or with a pendant optic – fit onto the track and can slide freely. Easily removable, they can be implemented and complemented with accessories as required. Adapter and LED electronics are integrated in the head of the spotlights, which can be fitted with different optics providing different beam angles. Individually manageable from a smartphone through a DALI protocol using the gateway located in the track itself, they are adjustable regardless of their position (up/down, left/right). A special track uses a linear LED source for indirect light and at the same time powers the projectors. It is freely combinable within the system, in a similar way to the tubular modules for diffused lighting.
Track, connectors and diffuse light modules are formally integrated; it is therefore possible to create continuous, linear, corner or perimeter modular structures, either suspended from steel cables or by means of rigid rods available in different lengths. Furthermore, even without building false ceilings, the luminaires can be powered from a single point of light. Individual spots complete the lighting possibilities offered by the system.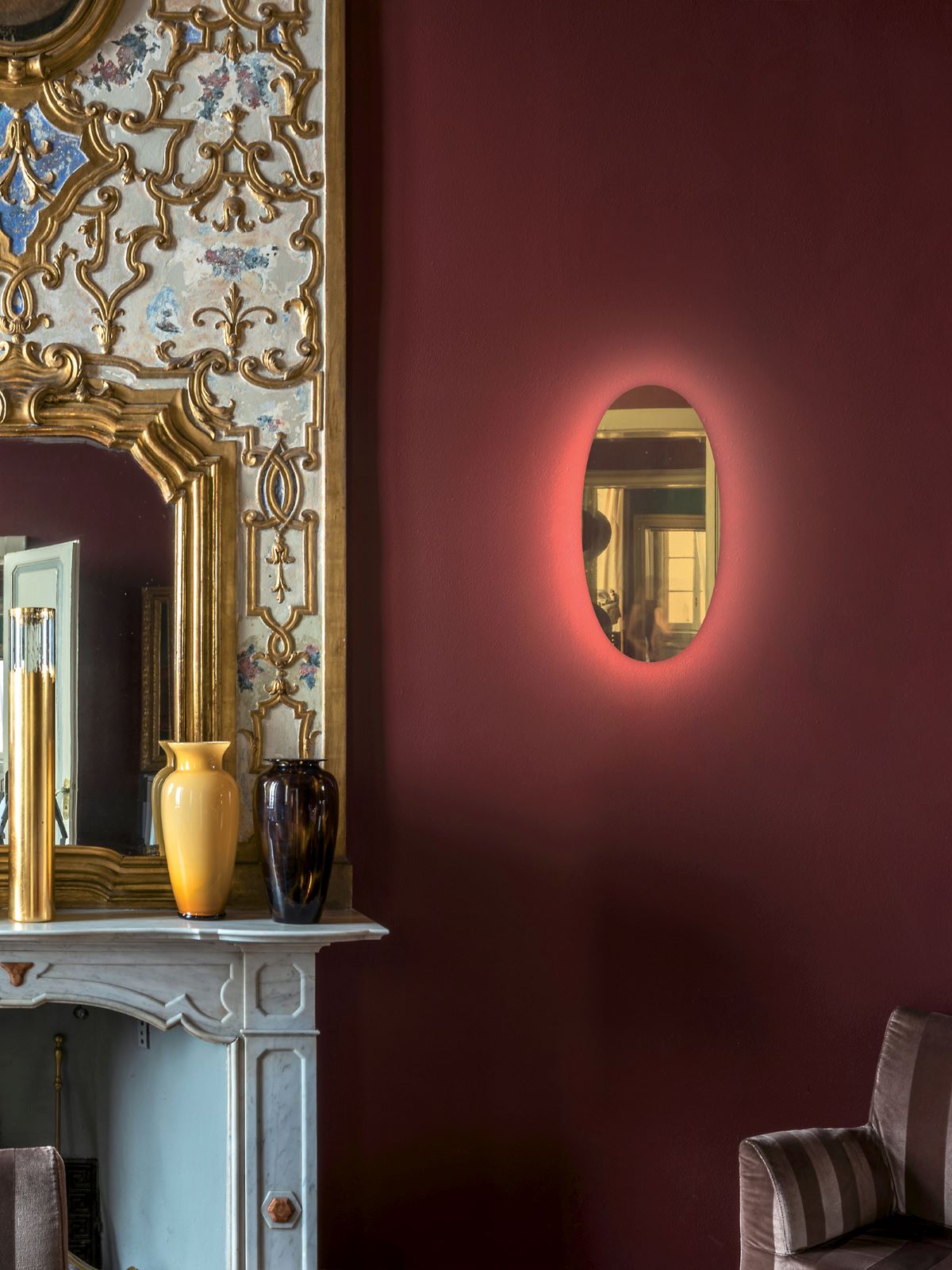 TOTEM & TABÙ (Design by Giovanni Lauda)
Applied to the wall, they recall primitive, hand-carved masks, and like faces covered in magic tattoos, the lampshades are engraved with regular horizontal or vertical stripes, carved in wood and metal, to reflect the ambient light. The grazing light spreads into the room, leaving the screens in dimness. Totem & Taboo, named after Sigmund Freud's book, expresses deep-seated emotions that seemed to belong to a distant and dark world, while they belong to a world 'after the end of the world', that is, to the world of today, devoid of certainty but anxious to return to the light.
Totem & Tabù is a family of wall-grazer lamps in which the grazing light of the LEDs placed on the perimeter diffuses into the room along the wall. The lamp consists of a die-cast aluminium frame, a silicone perimeter optic and a thin screen. The latter, mounted on the frame with two special inserts and easily removable, can be made of various materials: solid wood, pre-composed wood or MDF, milled and crafted according to original three-dimensional designs. Mirror, fabric and other materials and decorations are available on request.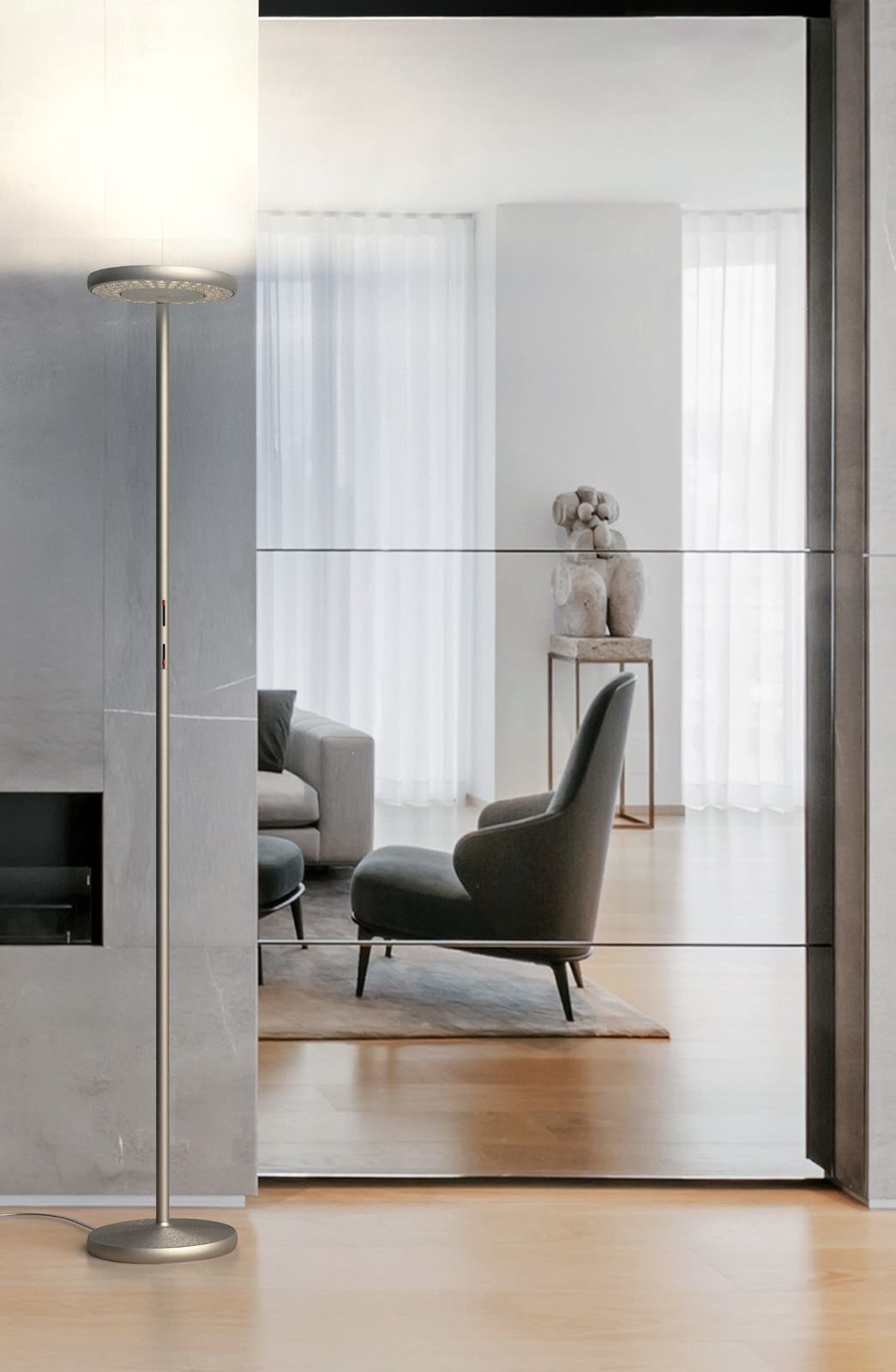 SOL (Design by Paolo Rizzatto)
The circle, with its endless compositional variations, has been with us throughout all the course of our civilisation's evolution. Sol stems from all those spiritual stimuli and material opportunities that the immortal form of the circle has made, and continues to make, available to us over the years.
Sol is a disc (28 cm in diameter, 3/6 cm thick) with slightly rounded surfaces and edges, which houses two light fixtures designed to make the most of the emission of 96 LEDs directed downwards and 128 LEDs directed upwards. The light intensity can be independently adjusted both towards the ceiling and the floor. Special raster optics avoid dazzle and decorate the horizontal surfaces of the disc with a concentric pattern, while concentric circle incisions discreetly contribute to heat dissipation. The very simple shape suggests and allows a comprehensive range of applications (floor, table, pendant, wall), making it suitable for a wide variety of contexts.