A25 Architetti, from the cellar to the rural villa (with a contemporary touch)
In Montevecchia, in Northern Brianza, an area known for the wine production recently resumed, A25 Architetti designed a house starting from the restoration of a warehouse and a barn.
The strong bond with the surrounding landscape is represented by the materials, such as stone and wood, combined with new systems and new technologies for energy-efficiency.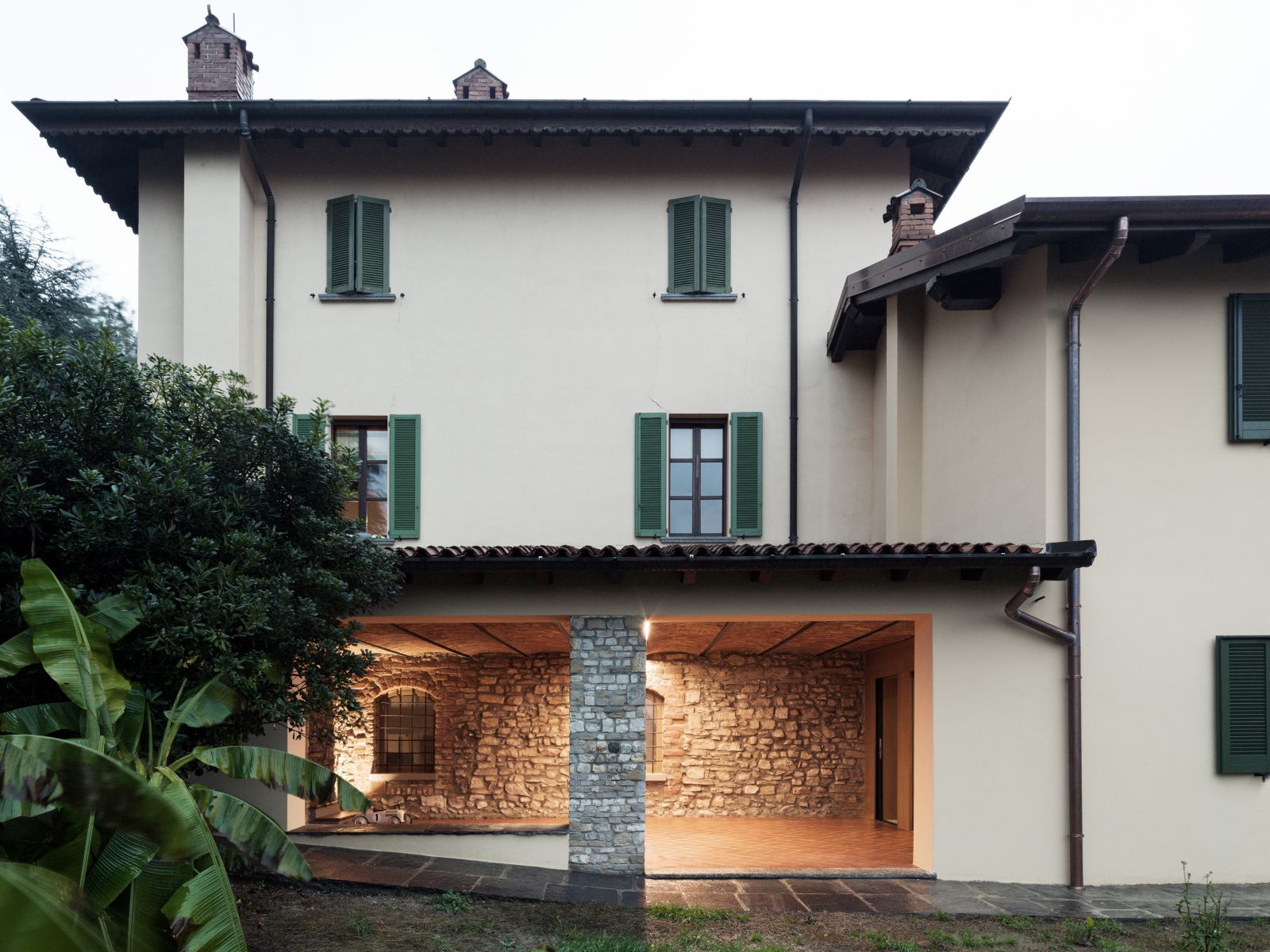 The restoration plan is based on three adjacent spaces and their relationship: the old vaulted cellar, now used for recreational and social purposes; the store room that opens onto the outdoor space, which today is a portico directly connected to the house; the warehouse and the barn, the only space divided into two floors, now transformed into living space.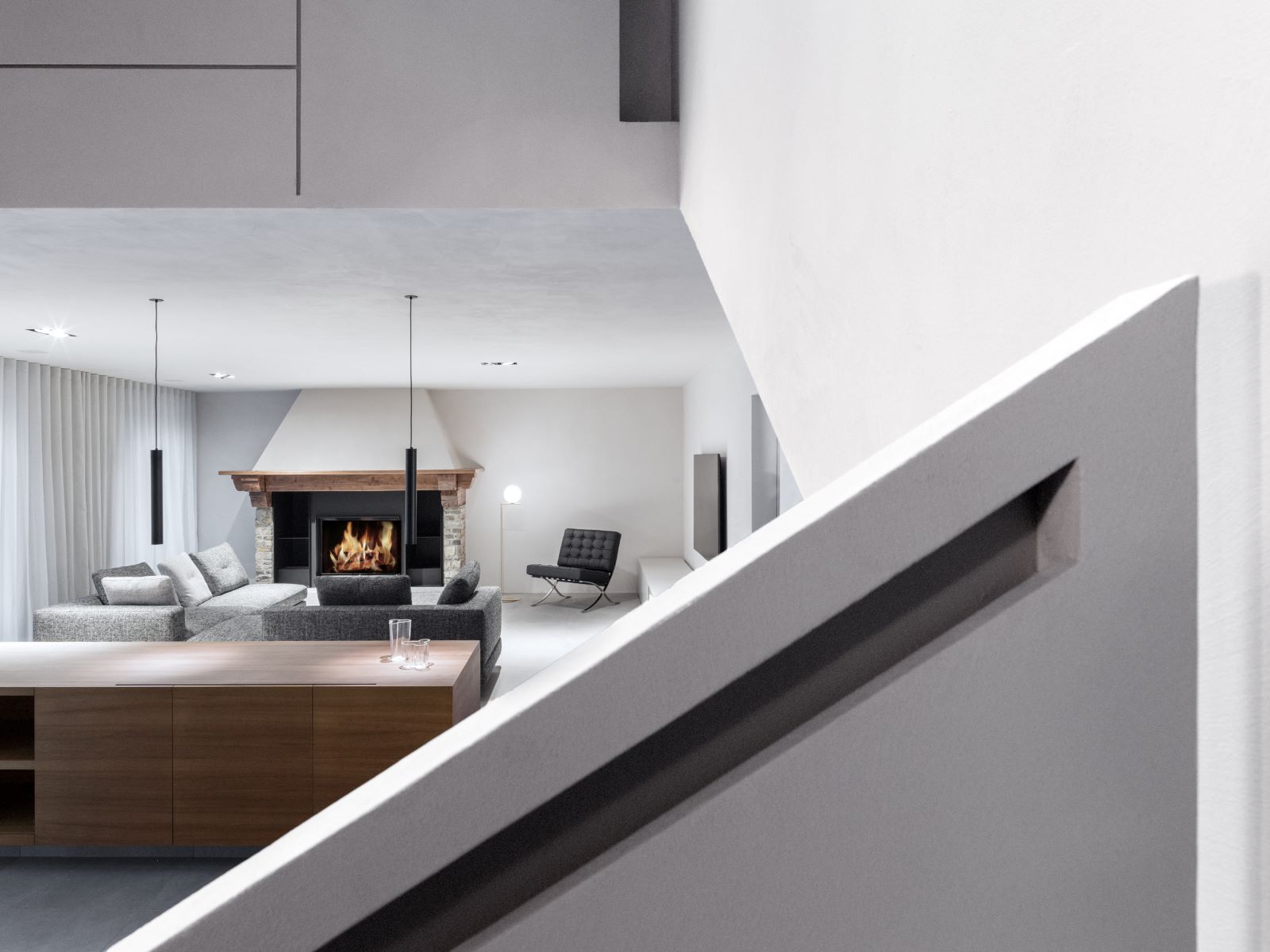 Floor maintenance and plaster removal were the only interventions that were designed for the old vaulted cellar and the store room, in order to highlight the old limestone and molera stone masonry, of which the terraces in Montevecchia are also made.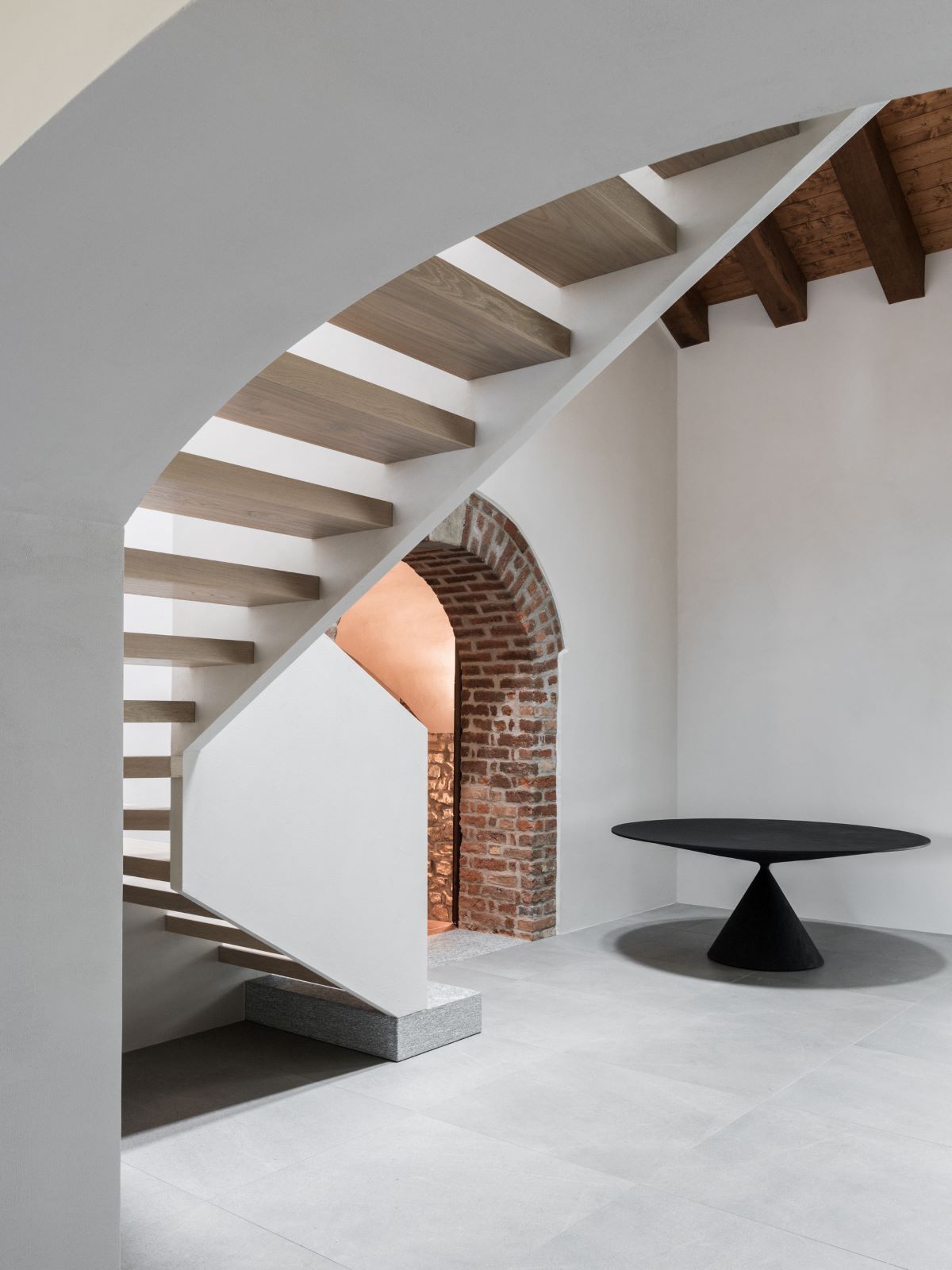 The old barnhouse on the ground floor and the barn on the first floor were instead totally restored: in particular, the double high space between the ground floor and the first floor has become the cornerstone of the whole dwelling.
The main hall, the kitchen, the living room (on a raised portion of the floor) and a toilet are located on the ground floor, characterised by a stone paving; bedrooms and other toilets are on the upstairs floor, facing the double high space.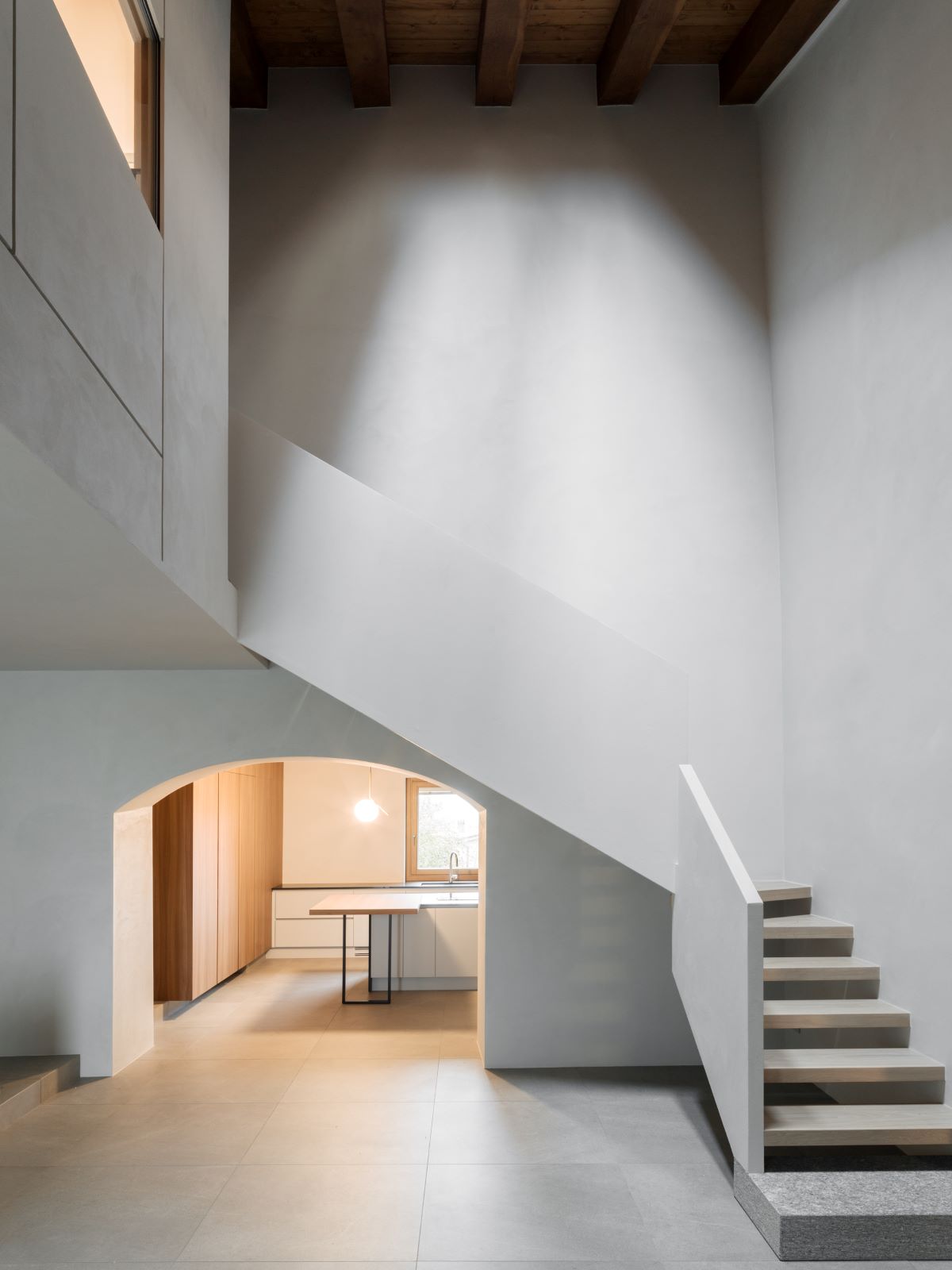 The materials come from the world of typical rural construction: stone, for the ground floor paving, rough plaster for indoor walls and wood for upstairs flooring and furniture.
Furniture is always designed and tailored as an essential device that relates to the ambients: for example, the kitchen and living room furniture is aligned and located on the step of the living room and it defines the connection to the adjacent spaces, though with different purposes and functions; on the other hand, the large window frame between the kitchen and the portico builds an exchange between indoor and outdoor spaces.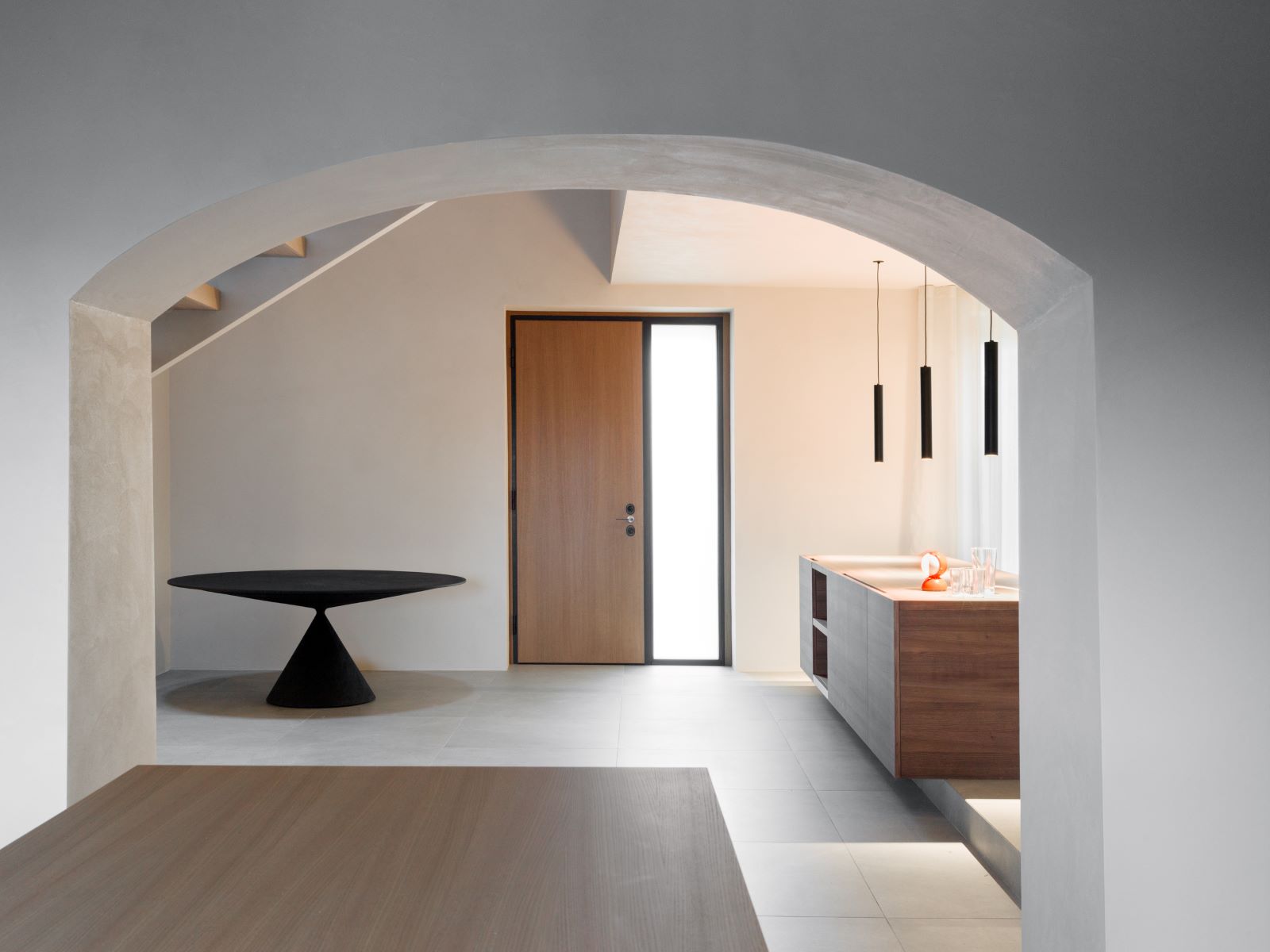 At the same time, the bush-hammered stone in the arch between the cellar and the main hall marks another threshold between the two ambients and similarly the first step of the staircase points out the threshold downstairs-upstairs.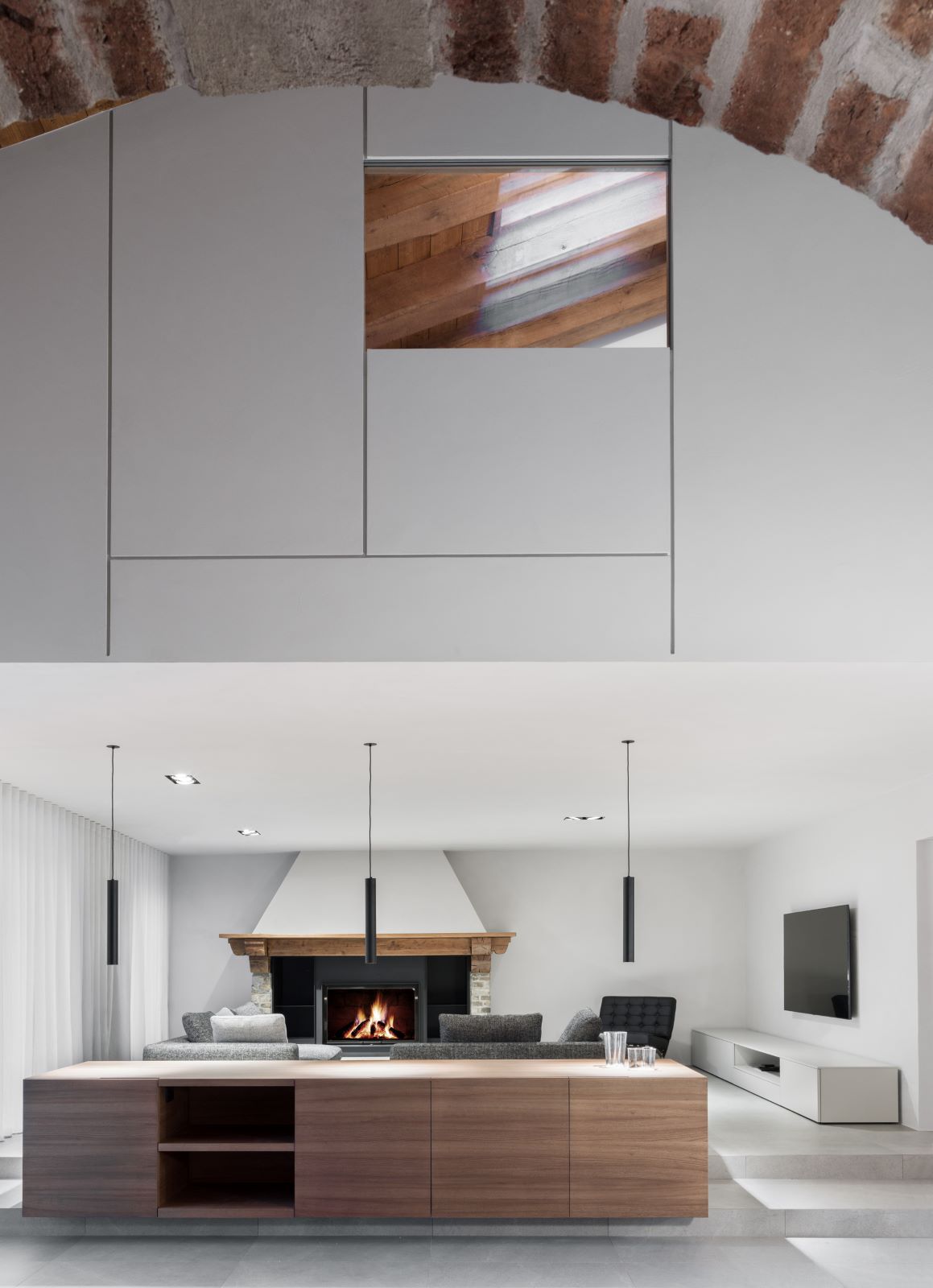 In conclusion, even if the the old building was therefore kept unchanged in its shape, the result is a real contemporary project, as also demonstrated by the Mention in the Residential category for the architectural competition "La Ceramica e il Progetto 2021", obtained also thanks to the use for the ground floor of the Yosemite collection by Blustyle in the Rock variant.